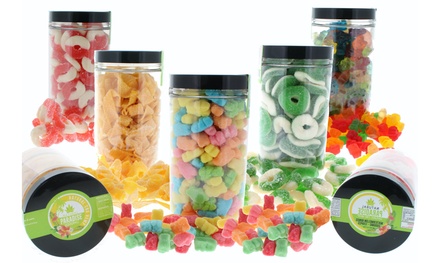 Tame your sweet tooth with these Natural Paradise 2000mg CBD infused gummies available in multiple flavors.
These jars are packed with the 99.99%-Pure CBD, giving you the perfect way to ingest your CBD. With many different options in the world of CBD Gummies! Natural Paradise offers some of the best-tasting and pure CBD Gummies on the market today!
Must be 18+ to order/redeem
This statement has not been evaluated by the Food and Drug Administration (FDA). This product is not
intended to diagnose, treat, cure or prevent any disease.
Hemp stalk derived. This product contains less than 0.3% THC.
---
EXTRA Large 2000mg CBD Gummies Jar (120-250 Pieces) 2000mg Jar (120 Pieces) Watermelon Rings
Lab Analysis: Label
Lab Analysis Included: Yes
Hemp-Stalk Derived Product: Yes
Nutrition Facts & Ingredient Label: Label
Food Expiration Date: 2020
Serving Size in Milligrams: 2000mg
Serving Instructions: consume no more than 2 pieces every 6 hours
Dimensions: 8.0 inches (H) x 3.0 inches (W) x 3.0 inches (L)
Weight: 2.0 pounds
EXTRA Large 2000mg CBD Gummies Jar (120-250 Pieces) 2000mg Jar (240 Pieces) Clear Bears
Lab Analysis: Label
Lab Analysis Included: Yes
Hemp-Stalk Derived Product: Yes
Nutrition Facts & Ingredient Label: Label
Food Expiration Date: 2020
Serving Size in Milligrams: 2000mg
Serving Instructions: consume no more than 2 pieces every 6 hours
Dimensions: 8.0 inches (H) x 3.0 inches (W) x 3.0 inches (L)
Weight: 2.0 pounds
EXTRA Large 2000mg CBD Gummies Jar (120-250 Pieces) 2000mg Jar (240 Pieces) Apple Rings
Lab Analysis: Label
Lab Analysis Included: Yes
Hemp-Stalk Derived Product: Yes
Nutrition Facts & Ingredient Label: Label
Food Expiration Date: 2020
Serving Size in Milligrams: 2000mg
Serving Instructions: consume no more than 2 pieces every 6 hours
Dimensions: 8.0 inches (H) x 3.0 inches (W) x 3.0 inches (L)
Weight: 2.0 pounds
EXTRA Large 2000mg CBD Gummies Jar (120-250 Pieces) 2000mg Jar (240 Pieces) Sour Bears
Lab Analysis: Label
Lab Analysis Included: Yes
Hemp-Stalk Derived Product: Yes
Nutrition Facts & Ingredient Label: Label
Food Expiration Date: 2020
Serving Size in Milligrams: 2000mg
Serving Instructions: consume no more than 2 pieces every 6 hours
Dimensions: 8.0 inches (H) x 3.0 inches (W) x 3.0 inches (L)
Weight: 2.0 pounds
EXTRA Large 2000mg CBD Gummies Jar (120-250 Pieces) 2000mg Jar (250 Pieces) Sour Belts
Lab Analysis: Label
Lab Analysis Included: Yes
Hemp-Stalk Derived Product: Yes
Nutrition Facts & Ingredient Label: Label
Food Expiration Date: 2020
Serving Size in Milligrams: 2000mg
Serving Instructions: consume no more than 2 pieces every 6 hours
Dimensions: 8.0 inches (H) x 3.0 inches (W) x 3.0 inches (L)
Weight: 2.0 pounds