Highest Court in EU Rules That CBD Isn't A Narcotic
On Thursday last week, the highest court in the European Union ruled that CBD isn't considered a narcotic since "it does not appear to have any psychotropic effect or any harmful effect on human health," reports the Guardian.
The ruling came after KanaVape, a CBD oil exporter in France who was prosecuted since the French law states that only hemp seeds and its fiber are allowed to be used commercially. KanaVape was making CBD oil from whole hemp plants. The court ruled that the French ban on marketing their hemp-based CBD oil was a contradiction of EU law allowing the free movement of goods.
"The national court must assess available scientific data in order to make sure that the real risk to public health alleged does not appear to be based on purely hypothetical considerations," writes the court. "A decision to prohibit the marketing of CBD, which indeed constitutes the most restrictive obstacle to trade in products lawfully manufactured and marketed in other EU member states, can be adopted only if that risk appears sufficiently established." They added that there are two UN conventions surrounding illegal drugs which make no mention of CBD.
"It is fundamental to develop strict quality standards in the interests of consumers in order to avoid the circulation of dangerous products," says Antonin Cohen, co-founder of Kana Vape alongside Sebastien Beguerie. "My goal is to improve access to the benefits of plants, in a legal and secure environment."
According to Robert Jappie, Ince law firm partner, the news was a "big win" for CBD. "By confirming that there was no scientific evidence to suggest that CBD has a harmful effect on the human body, the court has made it very difficult for the European commission to pursue their proposed classification of CBD as a narcotic," he says. However, the World Health Organization states that CBD is "generally well tolerated with a good safety profile," and that there is no proof "of any public health related problems associated with the use of pure CBD."
How Europe Can Benefit From Changing THC Limits From Hemp
Last month, the Common Agriculture Policy (CAP) proposed reforms and among one of them was the recommendation to revert to the 0.3% THC limit for Europe's industrial hemp. According to CAP, doing so would lead to significant opportunities for stakeholders while improving access to research and development for special cultivars. It would also put Europe on the map, alongside other international hemp markets.
"The reform lays out the basis for a growing, green, sustainable hemp sector all over our union," says President of the European Industrial Hemp Association (EIHA), Daniel Kruse. "Finally, the EU has the chance for a level playing field with the global industrial hemp sector- again. And with the upcoming marketing standards for hemp, the EU can gain momentum and catch up with the world," he says.
The hemp standards were the second of other primary components that affected the hemp industry, indicated in the CAP reform bill. They also discuss several concerns such as labeling, technical definitions, farming and production methods, among others. EIHA also pushes for the application of marketing regulations to hemp.
"The member states should follow the European parliament and lay the basis for a growing, green, sustainable industrial hemp sector all over our union," Kruse says.
If the THC limits in the European hemp market are increased, it would have several significant impacts. For one, it will increase the available hemp strains that European farmers can grow; they are currently limited to around 60 varieties which yield plants beneath the 0.2% THC limit. It's also significant that the THC increase would lead to a revitalization of seed science, allowing researchers to develop special varieties that can be used to create flower, leaves, fiber, and grain products. "European hemp breeding projects will finally have the chance to compete with the sector globally, and can play a major role in the upcoming years," says Kruse.
Germany Rejects Call For Recreational Marijuana
Germany's federal parliament shut down a bill that sought to legalize a "strictly controlled" adult-use marijuana market, making the EU nation's efforts to go recreational only go backwards. It is unfortunate that this happened considering that most members of Bundestag are part of a political party that supports cannabis reform.
However, there are many reasons why it seems unlikely Germany will pass a recreational cannabis market reform anytime soon; primarily it points to German Chancellor Angela Merkel, who is a center-right Christian democratic who is against liberalization. Other political reasons include the fact that the Social Democrats do support some reform but will prefer to vote with their government coalition partner, and if there are no favorable votes from some members of the government coalitions, who have majority seats in parliament, recreational marijuana use will just not be legalized.
According to Wieland Schinnenburg, a Free Democratic Party (FD) spokesman, they are in favor of a "cannabis liberty law" rather than the "cannabis control law" which was suggested by the Green Party since they find it too "full of regulations" that would not support a successful legal marijuana market.
"Cannabis Light" A Big Hit In Italy
Cannabis products are widely used around Italy, despite the laws being a gray area at best. One thing is for sure: cannabis light is the most popular choice among Italians.
A study shared in the Journal of Home Economics revealed that more Italians are buying cannabis light, mostly to replace pharmaceutical medications for anxiety and relaxation. Cannabis light in Italy is similar to the CBD products that are famous throughout the United States.
"The large-scale accessibility to the new product, which was advertised as a relaxant one, induced some patients to abandon traditional medicine to seek relief," the researchers wrote.
"This is intuitively explained by the relaxant properties of CBD, which is often used to treat sleep disorders," says the researchers. "Moreover, the large coefficients that we observe for sedatives and anxiolytics can be explained by the marketing strategies for cannabis and CBD-related products sold, which are typically advertised for its relaxant effects."
Additionally, the researchers noted that it is likely more people are turning to cannabis light as they need more effective medicine in areas where conventional drugs just don't work.
CANNABIS IN EUROPE, WHAT IS NEW, READ MORE..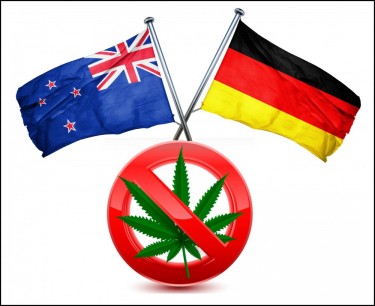 WEED GETS VOTED DOWN IN GERMANY AND NEW ZEALAND!
OR..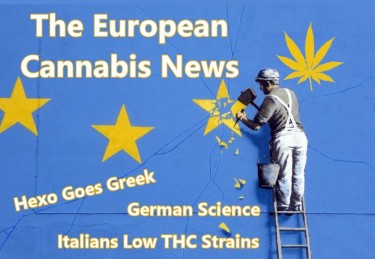 EUROPEAN CANNABIS NEWS REPORT – IS GREECE GOING GREEN?