Mike Tyson returned to the boxing ring Saturday night for an exhibition bout. Tyson, who's now 54, said he smoked marijuana before the eight-round fight that ended in a split decision with Roy Jones Jr.
Tyson was asked about smoking marijuana before the match.
"Absolutely, yes," Tyson said, according to USA Today.
He even smoked another before meeting with the press corps at the Staples Center in Los Angeles, the report stated.
"Listen, I can't stop smoking," said Tyson, who was fighting his first bout in 14 years. "I smoked during fights. I just have to smoke, I'm sorry. I'm a smoker. I smoke everyday. I never stopped smoking."
Tyson was an avid cocaine user until he knocked out that addiction almost three years ago. He never gave up marijuana, though. The fine line that allowed him to get away with it Saturday was, since it was an exhibition instead of a professional fight, marijuana wasn't on the list of banned substances in the test administered by the Voluntary Anti-Doping Association.
Tyson said marijuana has no effect on him, which is why he continues to do it while fighting.
"It's just who I am," Tyson said. "It has no effect on me from a negative standpoint. It's just what I do and how I am and how I'm going to die. There's no explanation. There's no beginning, there's no end."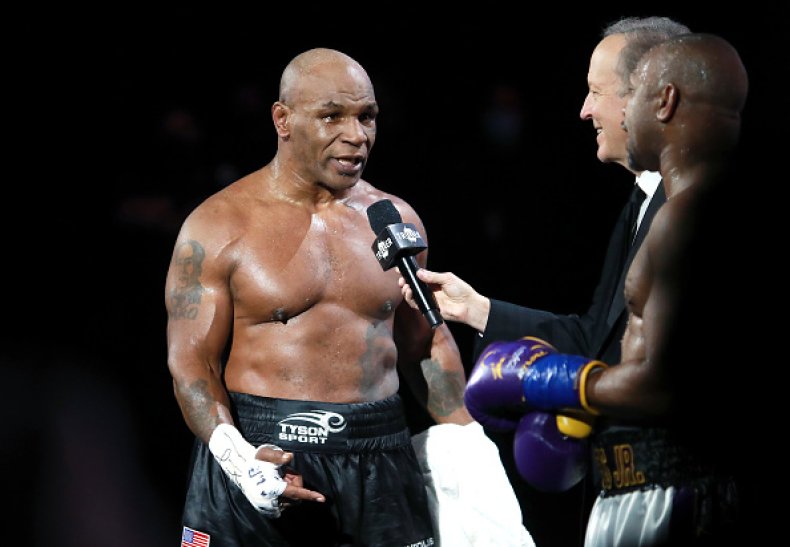 The boxer known as "Iron Mike" said marijuana helps numb him for fighting, but it doesn't help with pain from body blows.
"It just numbs me," Tyson said. "It doesn't numb the pain."
The fight between Tyson and Jones was the inaugural event to kickstart the "Frontline Battle" series, which is produced by Legends Only League. The fight was eligible for the new WBC Frontline Battle Belt.
Tyson looked fit and trim, donning his black trunks and landing hard shots to Jones, who looked rather sleek and flashy himself. Jones he kept Tyson tied up most of the night. The fight, scored by three former WBC champions, was a draw.
Each boxer was said to have received $10 million for the fight. Tyson, who once was worth an estimated $685 million, said he will not waste away the money like he did in his past.
"I'm here for a purpose," Tyson said. "I'm not here for my ego. My ego is taking the money, buying some planes, some nice houses packing up a bunch of chicks and have some orgies and stuff. This is not who that is right now. That guy was just somebody that had to be, eventually he was a platform to become me."
He said the new "me" is someone who cares deeply for his family, his clothes, his pigeons and his weed. He cares so deeply about the last that he formed his own cannabis company, Tyson Ranch, in 2017.